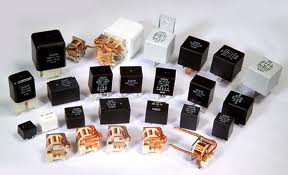 Electromechanical and Interconnect Components includes a wide variety of necessary functions for a system design, from board-level connectors, to relays, fans and switches.
Electromechanical Components are often used at the point of human interaction, converting a mechanical movement into an electronic output signal. A good example of this is an electromechanical pushbutton or toggle switch, which takes the user's mechanical action - actuating the switch - and converts this into an electronic signal which is passed to the remainder of the electronic system to perform the desired action.
Types of Electromechanical Components supplied by Procure international: DIP switches, Push Button switches, Toggle switches, Rocker switches, Slide switches, Snap Action switches, Keylock switches, Reed relays, Signal relays, Power relays, High Frequency relays, Automotive relays and Safety relays.
Interconnect Components are used throughout electronic system designs to connect various system components together. Board mounted connectors and sockets, cable mounted connectors and chassis mounted connectors each play a vital role in maintaining the signal path between all sub-systems within a design.
Connector types include Card Edge connectors, Circular connectors, Coaxial connectors, Contacts, D Subminiature connectors, IC and Component Sockets, FFC and FPC Flat Flexible connectors, Fiber Optic connectors, PC Board level connectors and PC Board to Board connectors, Plugs and Sockets, RF connectors, SMA connectors, and Terminal Blocks.
Major manufacturers of Electromechanical and Interconnect Components include TE Connectivity, Amphenol, Molex, Panasonic, Delphi, ITT Cannon, Harting, Deutsch, Souriau, Yazaki, Glenair, JST, I-PEX, FCI, Hirose, Samtec and Zettler.
Procure International offers both current production and obsolete Electromechanical components and Connectors from most of the world's manufacturers at very competitive prices and short lead times.
Search for the Electromechanical and Interconnect Components you need using the Part Number Search bar at the top of this page, submit your RFQ to get pricing, and place your order directly online using our secure online ordering process.