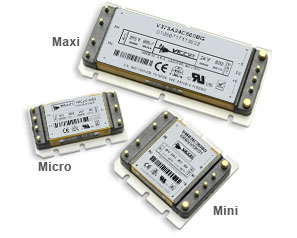 Vicor Corporation is a well-known manufacturer of Commercial, Industrial and Military DC-DC Converter modules.
The VI-200 and VI-J00 product family is very well established as a standard in the industry and has been installed in millions of systems worldwide. This DC DC Converter product line is available with Input Voltages ranging from 10-400VDC, Output Voltages from 1-95VDC and output power up to 200W. Power Booster Modules and Harmonic Attenuator Modules are also available for the VI-200 and VI-J00 product family of DC/DC Converters.
Vicor's 2nd Generation DC DC Converters include three sizes: Maxi, Mini and Micro - full-brick, half-brick and quarter-brick modules. Input Voltage ranges from 24-375VDC, Output Voltage ranges from 2-54VDC and Power Output is available up to 600W. These converters can be paralleled for redundancy or for higher-power applications, and all products in the series feature input undervoltage and output overvoltage protection.
Procure International offers both current production and obsolete DC/DC Converters from Vicor Corporation at very competitive prices and short lead times.
Search for the Vicor DC DC Converter Modules you need using the Part Number Search bar at the top of this page, submit your RFQ to get pricing, and place your order directly online using our secure online ordering process.