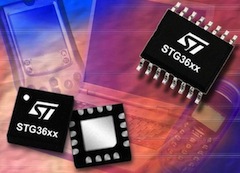 Analog Switches are semiconductor devices that perform the simple function of switching an analog signal on or off in a signal path. Early Analog Switch designs were manufactured as analog modules or small PC boards incorporating multiple discrete MOSFETs. With the development of advanced CMOS process technologies, Analog Switches are now offered in a variety of configurations, such as Single-Pole, Single-Throw or Single-Pole, Double-Throw and are typically offered with 1, 2, 4 or 8 switches as a single integrated circuit.
Analog Switches are used as general purpose building blocks across a broad range of applications, and they are also manufactured as application-specific devices for Telecom, Audio/Video, Network and Automatic Test Equipment applications.
Manufacturers of Analog Switches include Analog Devices, Maxim Integrated, Texas Instruments, Vishay Intertechnology, STMicroelectronics, Linear Technology, Intersil, NXP Semiconductors and On Semiconductor. Growth in the Analog IC market is forecast to average 10% per year over the next five years.
Procure International offers both current production and obsolete Analog Switches from most of the world's manufacturers at very competitive prices and short lead times.
Search for the Analog Switches you need using the Part Number Search bar at the top of this page, submit your RFQ to get pricing, and place your order directly online using our secure online ordering process.