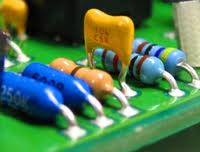 Passive Components as a category includes Capacitors, Resistors, Inductors, Chokes, Coils, Transformers and Potentiometers. A wide variety of base materials and chemistries are used to achieve the desired performance of each of these types of components. Passive Components, by their nature, do not need to be powered in order to perform their assigned function.
Passive Components are generally the most common board-level components found in an electronic system and are typically used in high volumes.
Types of Passive Components supplied by Procure international: Aluminum Electrolytic Capacitors, Ceramic Capacitors, Chip Resistors, Common Mode Inductors & Chokes, EMI Filters, Beads & Chokes, Film Capacitors, Film Resistors, Mica Capacitors, Potentiometers, Power Inductors, RF Inductors, SMD Resistors, Tantalum Capacitors, Through-hole Resistors and Trimmer Capacitors.
Major manufacturers of Passive Components include Murata, Kemet Corporation, AVX Corporation, Vishay Intertechnology, ROHM Co. Ltd., Panasonic, Yageo Corporation, Bourns, Epcos-TDK, Taiyo Yuden, Pulse Electronics, Littelfuse and TE Connectivity.
Procure International offers both current production and obsolete Passive Components from most of the world's manufacturers at very competitive prices and short lead times.
Search for the Passive Components you need using the Part Number Search bar at the top of this page, submit your RFQ to get pricing, and place your order directly online using our secure online ordering process.