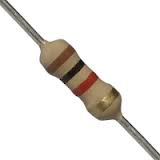 Through-hole Resistors are two-terminal passive components that introduce resistance to the flow of current within an electrical system. Typical package styles for Through-hole Resistors are Axial-leaded and Radial-leaded packages.
Through-hole Fixed Resistors are manufactured using a wide variety of materials to achieve specific results, including carbon composition resistors, carbon film resistors, metal film resistors, thick film resistors, thin film resistors, ceramic resistors and wirewound resistors.
Manufacturers of Through-hole Resistors include AVX Corporation, Vishay Intertechnology, ROHM Co. Ltd., Panasonic, Yageo Corporation, Bourns, KOA Speer, Ohmite and TE Connectivity.
Procure International offers both current production and obsolete Through-hole Resistors from most of the world's manufacturers at very competitive prices and short lead times.
Search for the Through-hole Resistors you need using the Part Number Search bar at the top of this page, submit your RFQ to get pricing, and place your order directly online using our secure online ordering process.